Vaisey Family
Summary Page
A detailed chart, with the names of those researching in each branch,
CLICK HERE
For more details of the Vaisey Mailing List at Rootsweb, CLICK HERE
To read latest news from Reseachers of "our" Vaisey and Wicks families, CLICK HERE
For Biographies of Wicks and Vaisey Descendants, CLICK HERE
For a map of Kingswood and surrounds, CLICK HERE
========================================================================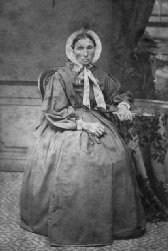 Nathaniel Vaisey (1809 - 1885) and Hannah Vaisey nee Ballard (1808 - 1867)
(Photo of Hannah per courtesy Jennifer Squires)
Summary
Hannah (also Ann and Anna) Ballard, bap Oct 1808 at Kingswood, is the daughter of James Ballard of Wickwar and Hannah Sargeant, m. 17.5.1897 at Kingswood.
Hannah Sargeant is the daughter of William Sargeant and an unknown Hannah.
Nathaniel Vaisey, bap 29.1.1809 at Kingswood is the son of Thomas Vaisey, bap 9.4.1764 at Cam, the son of John Vaisey, m.3.2.1761 at Cam to Mary Millard.
Thomas Vasiey m. Jane Hale, said to be related to Sir Matthew Hale.
For history around Wotton-Under-Edge (including Kingswood), by Dave Hedges, CLICK HERE
===========================================================================
John Vaisey m. 3 Feb.1761 at Cam to Mary Millard.
Their son (only known issue, may be others) Thomas Vaisey bap. 9 April 1764 at Cam. (This information is from a photocopy of an original, handwritten birth extract from the Vaisey family Bible that surfaced for a short time and disappeared again)
Nathaniel Vaisey, son of Thomas and Jane, was bap 29 January 1809 at Kingswood.
Other siblings are known, including Orlando (bap 1809 Kingswood), who also emigrated to Australia.
Betty Gazard Vaisey was bap 1804 Kingswood, Sabina 1800 Kingswood, John 1806 Kingswood, Mary Ann 1802 Kingswood.
All references to Kingswood are the one near Wotton-under-Edge, not the one near Bristol.
Nathaniel mar. date and place nk, but about 1832, to Hannah or Ann Ballard of Kingswood, the daughter of James Ballard of Wickwar and Hannah Sargeant, who were married 1807 at Kingswood.
In 1839 the Vaiseys, along with the Wicks family, emigrated to New South Wales on the Bussorah Merchant. They were said to be emigrating at the suggestion of another family member. Their children at that time were Louisa (b. 5.1.1835 in Wiltshire, m. Levi Dawson) and Hannah Ballard (b.27.4.1835, m. William Manning). The Thompson family from Hawkesbury were also aboard.
The WICKS family consisted of Henry Wicks and his wife Hannah or Georgiana nee Sargeant, first cousin of Hannah or Ann Ballard. Hannah Wicks nee Sargeant was the daughter of Nathaniel Sargeant, brother to Hannah Ballard nee Sargeant.
One member of these two families claimed to have had a brother married to a member of the Indian nobility, who they visited en route to Australia.
The Vaiseys gave their religion at the time of embarkation as "Dissenter" and have always been believed in the family to have been French Huguenots. Family members typically have a long, thin face with a thin, long, prominent "Vaisey nose". Photographs recently located suggest that this is a legacy from Hannah Ballard. There is a suggestion that in Gloucestershire they may have been silk weavers.
In Australia the Vaiseys first lived at Hinton on the Hunter River, north of Newcastle in New South Wales, where Hannah/Ann died 18.12.1867 and is buried. She is probably in the Anglican churchyard cemetery, but her grave is unmarked.
Their children born New South Wales were Elizabeth (b.14.11.1839 at Butterwick near Hinton, m. John Smith), Thomas (b.1842, m. Jane Walters), Mary Ann (b.13.10.1844 Bowthorn, Hinton), John (b.23.9.1846 Hinton), Andrew (b.24.11.1848, Clifden), m Mary Ann Duggan and Christine Munro (??order). The children they had in Australia were baptised at various Anglican and Methodist or Presbyterian churches.
Verena Emily May Vaisey, one of those children, was my mother's mother.
Nathaniel then moved at some unknown time to Merriwa, further inland, where the Wicks family had been for many years. He died 11.9.1885 and is buried in the Merriwa Anglican Churchyard, under a Celtic Cross. All Vaiseys in the phone book in that area are descended from this family, as Orlando Vasiey only had two daughters.
=====================================================================
Orlando Vaisey m.26.2.1839 at Gloucester St Nicholas to Harriett Smith. Only known issue two daughters, Mary Smith b. c1840 and Eliza b. c1846. One daughter married R.J. Banks.
In 1851 they were living in Leckhampton, south of Cheltenham.
They arrived 1856 on the Gomelza at Port Adelaide SA.
Orlando died 12.12.1879 at Clarence Town, NSW after being "gored and tossed by a bullock in the street". He is buried in the cemetery there, and has a headstone.
=============================================================================== Eliazbeth VAISEY arrived Sydney per Susan in 1839, but she cannot be linked into this family at the moment. ===============================================================================
Back to Linda Barraclough's Home Page
Last updated: 30 Apr 2010